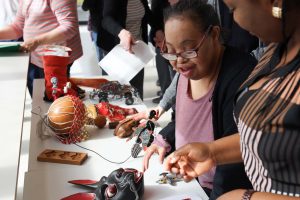 A world of discovery– by and for everyone
When London's Horniman Museum created a gallery exploring what it means to be human, people with learning disabilities were involved. Josephine Healey reports
High on the hill set in 16 acres of beautiful gardens in south-east London sits a true jewel – the Horniman Museum.
Founded by Frederick John Horniman with items gathered from his extensive travels, the museum reflects a cross-section of the world. There are collections of natural history, anthropology and musical instruments, as well as an aquarium and butterfly house.
From its inception, Horniman desired that the museum would serve to educate, engage and inspire local people in Forest Hill. This mission remains as strong today, driven by the museum's community learning team.
Engagement is at the heart of many public, cultural and educational venues. However, there can be a shortfall between the ambition and the reality, with lip service paid to the notion of engagement but a discernible gap in terms of achieving genuine inclusion. How do you make sure you engage all sections of your community, including people who are hard to reach or often excluded Ð those who often have little or no voice?
If you do manage to involve these individuals, how do you make sure that you are engaging with them in a meaningful way? True engagement is collaboration and inclusion. It is having ideas and opinions listened to and respected. It is giving people control and choice over shaping the way things are done.
Crucially, alongside the consultative process, it is giving people the opportunity for active involvement and the chance to experience tangible outcomes from what they put in.
The Horniman's Discovery Box project – part of the World Gallery – is a fantastic example of true engagement born through a person-centred approach to involvement and partnership work with local people.
A Heritage Lottery Fund grant enabled the museum to involve people with learning disabilities in the project's development. This saw community groups work with the museum to design boxes of items based on a theme of their choosing. The boxes are to be displayed in the Horniman's Hands on Base Gallery – a space where visitors can handle items from the museum's collection.
The boxes can act as self-guided journeys of discovery for the diverse range of visitors and also taken outside, bringing the museum to the community. As well as being a tool to educate and inspire, they will have a lasting legacy, projecting the personalities and voices of the people who put them together out into wider society.
As a social inclusion manager with Three Cs, I was excited to work with the Horniman to design inclusive, person-centred sessions allowing our service users (including those with little or no verbal communication) to fully embrace this opportunity.
Central to successful engagement was careful planning. This gave structure to sessions while allowing them to be flexible enough to be led by participants, reflecting their interests and learning styles.
To be meaningful and of interest to the people we support, our sessions had to be interactive and fun Ð using tools such as digital cameras to allow people to select and record objects that interested them, and using games and activities to get to know participants so we could support them to truly project their voices.
It was also important to get 'hands on', discovering objects through our senses, investigating how they worked, choosing our favourites and spending time visiting the museum's galleries. Could we find objects similar to the ones we had liked? Perhaps ones that made the same sound, were the same shape or came from the same animal family?
Invaluable to the process was the collaboration between Three Cs' support staff, who know the participants and are skilled in supporting them to express their preferences, and Horniman staff and volunteers, with their expertise of the collection and object handling. This allowed people to actively explore items they chose.
Three Cs' box – Wings, Whiskers and Wheels – is an eclectic mix that is genuinely representative of the people involved in the project, their choices and their voices.
Tony Manning's and John Allison's love of birds and Christine Ingram's passion for aeroplanes, for instance, gave us the wings section, with objects selected from a wide range of winged items. Cheryl Lyte's inner fashionista saw her drawn each time to a fetching pair of whiskered cat boots. Ruth Alliston, who is non-verbal, loved it when her mum Ð a Horniman volunteer – helped her interact with the masks; the route they took around the museum will be included in the activity section of the box for others to follow.
The Discovery Box project provided a meaningful brief with a real outcome. Being flexible and person centred allowed Three Cs and Horniman staff to engender true engagement and allowed people to express their personalities and passions. Knowing the group as I do, I would say that all that's missing from our box is a nice cup of tea.
Josephine Healey is social inclusion and volunteers manager for Three Cs. www.threecs.co.uk
---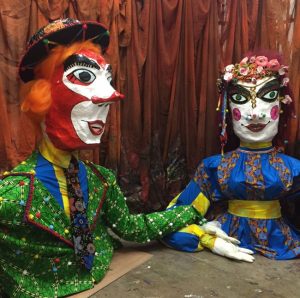 Mini museums are a global gain
The Horniman Museum and Gardens aspires to be the most culturally democratic museum in London, building on founder Frederick Horniman's vision that people from all backgrounds feel this is a place for them, writes Julia Cort.
Our Discovery Boxes – mini museums in a box – are important in this. Each box is themed and full of things that can be touched, worn and investigated.
Visitors can explore them in our Open for All sessions on Sunday mornings or talk about them with volunteers in our World Gallery. We will be taking them out to groups who are unable to visit.
Thanks to the Heritage Lottery Fund, we could refresh the boxes that had been made in 2002. We asked groups supporting people who might not visit the Horniman of their own accord for their help.
Each group chose a theme for a box, decided which of our objects should go into it and wrote a guide on them. We worked with three organisations for people with learning disabilities – Redstart Arts, Lambeth Mencap and ThreeCs.
The project was a great success. As well as talking to visitors about the items in the boxes, we are talking to them about disability, neurodiversity, communication and other issues. Our partners with learning disabilities have taught the Horniman team new ways of responding to items, such as making up songs and finding special ways to protect them. We have also learnt a few Makaton signs.
The Discovery Box project is linked to the World Gallery, which opened on 29 June – 117 years to the day since the museum opened in 1901. This showcases our anthropology collection of over 3,000 objects telling stories from around the world that explore what it means to be human, and how ordinary people live and make their way in the world we all share.
We would like to thank the groups for helping us to appreciate the wonderful variety of ways to communicate and understand the worlds that exist within as well as between cultures.
Julia Cort is community engagement manager at the Horniman Museum and Gardens. www.horniman.ac.uk
If you enjoy our free articles and would like to support our Campaigning magazine, providing legal articles on rights and good practice as well as comment on policy and practice concerns, why not SUBSCRIBE . You get a quarterly printed magazine & digital access to the archive and current articles. Individual subs for a year start at £30 pa with concessions for students and unwaged carers
https://www.cl-initiatives.co.uk/wp-content/uploads/2018/10/flavio-graff-blog4.jpg
645
650
Rosemary
http://cl-initiatives.co.uk/wp-content/uploads/2017/06/community-living-1.png
Rosemary
2018-10-18 21:24:07
2018-10-26 11:19:53
A world of discovery– by and for everyone