Asperger's Nazi past
Hans Asperger has been celebrated for his defence of children with disabilities but a study has concluded he assisted in the Nazi euthanasia programme. Michael Baron reviews it
Asperger's Children: the Origins of Autism in Nazi Vienna Edith Sheffer
W Norton & Company, 2018, 317pp, £20 hardback
To read Edith Sheffer's Asperger's Children is a chilling experience. It is a hugely important work. The book confirms rumours that Hans Asperger participated (albeit at a careful distance) in the Nazi practice of killing disabled children during Austria's occupation. The paediatrician's signature is on orders to move learning disabled children from his Viennese clinic to Spiegelgrund, a nearby hospital where more than 400 children were murdered.
In addition to drawing on recently discovered documentation, Sheffer bases her argument on newly translated descriptions by Asperger of his young patients, which are imbued with Nazi eugenics philosophy and demonstrate a profound disgust for the most disabled children in his care.
Today we use colloquialisms such as 'aspies' in a positive way and give people the label of Asperger syndrome, even though it is no longer an official diagnostic term. For how much longer can this continue after Sheffer's revelations?
"Asperger's descriptions are imbued with Nazi eugenics and demonstrate a profound disgust for the most disabled children"
Lorna Wing, the eminent psychiatrist who originated the idea of autism as a spectrum condition, first suggested the term Asperger syndrome be used. In the early 1980s, she thought it would be a useful term for autistic children without intellectual disability whose parents found the term autism, with its association with a low IQ, stigmatising.
Over the decades, Asperger syndrome has become a badge of honour for those who argue that their form of 'autism' was not so much a disability but a difference that, with greater societal acceptance, could be an asset.
Professor Sheffer, herself a parent of an autistic child (which has led to some suggestion of bias by some critics) is by profession an academic historian of Germany. Her groundbreaking book is scrupulously researched and, for the most part, responsibly written.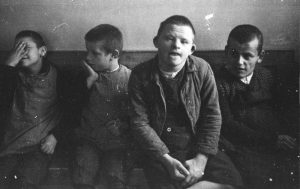 Children with Down's syndrome in Schönbrunn Sanatorium in Germany, 1934
Unfortunately, this book's subtitle, The Origins of Autism In Nazi Vienna, is provocative and misleading. It is not the case that autism as it is known today originated with Asperger in Nazi Vienna rather than with Leo Kanner in Chicago. However, that criticism is probably best levelled at a publisher looking for an attention-grabbing subtitle rather than the book's author.
It is more than 70 years since the defeat of Nazi Germany and here, finally, is a biography of a controversial subject that also serves as a primer on the worst excesses of Nazi eugenics.
Evidence comes to light
Only in recent years has evidence emerged from the Vienna archives of Asperger's role in sending a number of learning disabled children to be exterminated. Austrian researcher Dr Herwig Czech has been most diligent in finding evidence in Austrian archives, on which Professor Sheffer has expanded.
However, rumours about Asperger had circulated for many years. These were tackled by Adam Feinstein when he wrote A History of Autism: Conversations with the Pioneers (2010). Feinstein interviewed Asperger's daughter Maria as part of his research and wrote 'there seems to be no evidence of this [affinity with Nazism] whatsoever – indeed, the very opposite is more likely to be the case'.
However, in more recent correspondence with the reviewer, he writes: 'The evidence against Asperger is quite damning. Asperger's association with the genuinely evil Erwin Jekelius is profoundly disturbing. I think we have to assume that Asperger was aware of Jekelius's commitment to implementing euthanasia as permanent public policy in Austria.'
No reviewer to my knowledge has picked up on the commonality of medical and cultural links in 1920s Vienna, and that both Viennese paediatrics and the Camphill (Rudolf Steiner) movement deployed the term 'curative education' or HeilpŠdagogik. Indeed, Sheffer finds the Steiner connection but does not pursue it since it is not relevant to her subject.
Asperger's pioneering work with disturbed children, his 1944 paper on autism which was only translated into English by Uta Frith in 1980, was being used in Camphill training in the 1950s.
Dr Karl Konig, himself a paediatrician who fled Nazi Austria to found the Camphill community in Scotland, was always ready to engage in dialogue, even with those with whom he had extreme differences of opinion.
Konig visited Asperger twice in Austria, and the latter was at Camphill in October 1959. His journal reveals that he knew something of Asperger's involvement in the Nazi programme and it is a great pity that historians of autism have overlooked his insights.
The last word on future terminology, I leave to the chief executive of the National Autistic Society. After members were canvassed, Mark Lever said the NAS should stop using the term Asperger syndrome 'except as a term to describe a former diagnosis while completely supporting people's choices to use the term about their own diagnosis'.
The fence may be the best place to sit, even when the story of how it came to be sited will always be a very troubling episode in the long history of autism.
Michael Baron was one of the group of parents of children with autism who founded the National Autistic Society (as it now is) in 1962
https://www.cl-initiatives.co.uk/wp-content/uploads/2019/01/aktion-t4-program-children.jpg
504
800
Rosemary
http://cl-initiatives.co.uk/wp-content/uploads/2017/06/community-living-1.png
Rosemary
2019-01-06 15:16:12
2019-01-11 17:20:50
Asperger's Nazi past