Work, health and disability: improving lives
The Department of Work & Pensions' Green Paper was the main topic of the discussion at BASE (British Association of Supported Employment)'s 11th conference attended by Rosemary Trustam.
The conference reflected BASE's unwavering passionate and committed championing of supported employment. DWP speakers confirmed that the key principles of work and health programmes would be personalised, integrated and localised. The Department intended to use BASE to test their supported employment model and then scale it up. A more personalised offer will start with better trained Job Centre Plus (JCP) staff and help from community (third sector) partners, with experience or expert professional knowledge, to help job centres get the expertise.
The Green Paper target disability group is mental health but there will be significantly reduced funding despite the extra resources promised. Pilots will be set up In partnership with local authorities' supported employment services in learning disability and autism to see what works with the most challenging people.  However, supported employment services are felt vulnerable to local authority cuts. Links with Education Health and Care planning are being explored and the DWP plans to offer more supported work experience for young people with mental health issues.
The essential values of supported employment are real work, real work settings and real money at the going rate of pay. People are placed in jobs and trained in situ, comprehensive profiles of the individual are built, with a full job analysis (including job carving) and job matches, to develop a placement plan.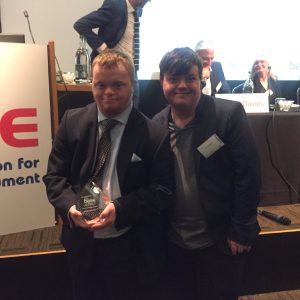 Timothy Broadhurst was the BASE award advocate for supported employment's success in his work for Timpsons Ltd, winning the David Grainger Award, presented by Liam Bairstow of Corrie fame. Liam charmed us in his keynote speech in which he paid tribute to his Corrie family's support and confessed to feeling nervous speaking to such a large audience.
Derby Council's active citizenship and Assets-based Community Development (ABCD)  approach with adults with severe learning disabilities showed how engaging more widely develops the foundations  on which meaningful and sustainable employment can be built. Local Area Coordinators (LACs) get to know people in their community – groups, businesses, and people struggling – and work out how to link them to get a good life.
Tom had lost his mum and dad. The LAC heard about his plight from a local shopkeeper and contrived to meet him there. When they were invited to his home, the unopened mail revealed that he was getting no benefits and that there had been some police involvement due to shoplifting. The LAC involved the food bank and helped to get his benefits, thus averting a crisis. After volunteering for a local community group, Tom ended up employed in an M&S warehouse. At Christmas he brought a £10 contribution for, as he said, "someone else in the same situation". He became a 'community asset.'
A coffee morning set up using the college transition group leavers became sustainable with help from members of the local community. Three adults helped an autistic young man with complex needs to become independent. He now has his own flat without social care support, five minutes from his family home and mum has a job and her own social network.
After eight months, Derby University's evaluation found potential savings potential of £1.3-£1.4 million if replicated across ten wards. Derby Council have seen how developing local lives diminishes the need for formal services.
For employers, Liz Stanton's work in IKEA Edinburgh was inspirational. She had turned round the business's view of employing disabled people, overcoming staff's initial nervousness by being present and engaging.
Jenny, was a 17-year-old with no speech who covered her face. Her parents were deaf and used British Sign Language at home. She now meets and greets customers, signing them through the store as a paid job at IKEA.
Derek with no sight uses his sense of smell to get round. He works in the candle shop, also meeting and greeting and helping non-visual people.
Eve without speech or legs, uses an Ipad pressing buttons to answer people's questions, such as, 'Where's the toilets, the first aiders?' etc.
Wales' Engage to Change project with a five years Big Lottery Fund's Getting Ahead 2 grant of £10 million will work with 800 employers to help 1,000 young people with learning disability and/or autism develop their employment skills through paid work placement.
Newham Council's Workplace Supported Employment Team won BASE's team award, increasing their employment rate for people with health and social care needs from 2.8% in 2011-12 to 7.8%.  (For others see http://base-uk.org/base-awards-2016) For presentations of these and other workshops see http://base-uk.org/2016-conference-workshops
http://cl-initiatives.co.uk/wp-content/uploads/2017/06/community-living-1.png
0
0
Rosemary
http://cl-initiatives.co.uk/wp-content/uploads/2017/06/community-living-1.png
Rosemary
2017-05-08 15:40:24
2017-05-08 15:40:25
BASE (British Association of Supported Employment)'s 11th conference November 2016