Ignored and forgotten – in death as in life?
Pressure is growing against the plan to build a car park over Calderstones hospital's cemetry. Sad enough that people spent their lives and died in a long-stay hospital but the contrast between this one and the nearby military cemetry is scandalous.  Not worth caring about?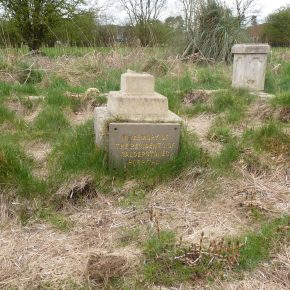 photo Pathways associates CIC
Nigel Ingham writes in our summer issue due out shortly in July. https://www.theguardian.com/world/2018/apr/30/church-of-england-buid-car-park-graveyard-calderstones-hospital-cemetery
Also in this issue…. not too late to subscribe..
Welfare rights: assessments A parliamentary inquiry into assessments for disability benefits had some shocking findings. Charlie Callanan offers some advice
Legal: big issues for legal advice. Part 1: due process Belinda Schwehr discusses troubling, common issues in health and social care law and practice
Shared Lives offers a radical approach to achieving a normal life and
overcoming limited expectations, says Anna McEwen
Interview: Ray James, the first ever national director for learning disability at NHS England, talks exclusively to Seán Kelly about his vision with a community focus
Mark Stables – commisioner says 'Get creative with commissioning Forget "basic needs" – bold approaches in the face of cuts are the only way to provide sustainable services'..
Madhouse! The institution returns An immersive performance raises uncomfortable questions over the status of people with learning disabilities in society.Have dated attitudes really been consigned to history? asks Seán Kelly
Sue Deeley and Julie Smith tell the stories of two people supported by Gettalife – everyone needs meaningful relationships, including those with severe learning disabilities.
Research: can adapted psychological therapies help with depression and improve quality of life? Chris Hatton and Andrew Jahoda discuss the effects of therapies and whether they should be offered to people with learning disabilities
David O'Driscoll visits an exhibition on the stories and legacies of two long-stay institutions – 'Institutional life opened up'
Robin Jackson argues that combining health and social care makes sense on the surface but will not tackle underlying problems.
Conference highlights: Rose Trustam reports on Community Living's law seminar, and North West Regional Self-Advocates and Advocacy Focus events; Jo Clare sees whether Learning Disability England lives up to its promises at its first conference
Peter Dawson on the shrinking of local advocacy with large organisations sweeping up tenders to provide advocacy services across the country,  threatening grassroots projects that have grown to meet the needs of communities
What should we be fighting for?Jan Walmsley finds some inspired
answers through creative, unconventional performances in mainstream arenas
Liz Tilley and Vicky Green on the history of all kinds of people with learning disabilities in different circumstances brought to life in an online archive; disability heritage is backed by the lottery, says Liz Ellis report
From stage and screen to soap opera – Tracey Harding gives a round-up of the highlights and things to watch out for in the world of performance
Darwin's "idiots" and other animals – Why was the so-called "idiots" of Victorian Britain so important to Charles Darwin's theory of evolution? asks editor Simon Jarrett
https://www.cl-initiatives.co.uk/wp-content/uploads/2018/06/CL-summer-cover.jpg
842
595
Rosemary
http://cl-initiatives.co.uk/wp-content/uploads/2017/06/community-living-1.png
Rosemary
2018-06-27 08:36:12
2018-07-01 10:50:03
Summer issue - 'Discrimination in death'?