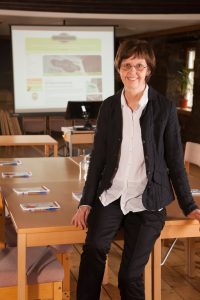 Farewell, Engine Shed
The Engine Shed was a social enterprise that trained young people, helped them into work and broke down barriers. Its former chief executive Marian Macdonald tells its story
The Engine Shed was a thriving social business that provided training for young people with learning disabilities in a working environment to help them move into paid employment.
Over the years, what had started as a training project evolved into a successful business with networks stretching far and wide, within Edinburgh and throughout Scotland.
It was set up in 1989 as an innovative training project, founded on the idea that work was an important way for people with learning disabilities to become as independent as possible and integrate into the wider community.
The project closed in 2015 when Edinburgh changed how it tendered for supported employment. I am writing this from the perspective of looking back over the past 30 years.
My role in developing and leading this organisation began in the spring of 1988. Eighteen months before, I had been a social worker based at local charity Garvald Edinburgh. Here, I worked behind the scenes as part of a steering group that explored ideas around setting up a vocational training resource.
These were exciting, pioneering times. Organisations that worked with and advocated for people with learning disabilities were beginning to challenge why they were excluded from the workplace – along with those they were working with.
We also explored what resources to support people to make a successful move into paid jobs should look like. Until then, when young people left school and/or completed a one-year extension course at a local college, it meant a move to a day centre offering a combination of social and craft activities. And, 20 years later, they would still be there.
However, the late 1980s proved to a turning point and a combination of ideas, optimism and, crucially, new funding streams enabled us to establish a charitable limited company with funding from the European Social Fund and Edinburgh Council. This permitted us to acquire a beautifully refurbished engine shed built in the 1830s. All this was achieved in less than two years. Talk about being fast tracked.
In many ways, the project took a practical, commonsense approach. It was based on the assumption that individuals with learning disabilities had the right to the same experiences and challenges after school as other young people, and had similar needs and aspirations, including access to further education and training in a setting that matched their way of learning.
The Engine Shed offered a three-year vocational programme. Trainees were based in one of our social business work areas which included a cafe, bakery, food processing unit and conference centre. In many ways, we operated an apprenticeship model where, under guidance, young people trained, worked, learnt and developed a range of vocational and personal skills to fit them for adult life.
Out of the comfort zone
The trainees worked in an environment where doing a job well, being part of a team, making choices and decisions, having rights and responsibilities, developing their social life, achieving what they had set out to do, dealing with situations that sometimes didn't work out as expected and occasionally feeling out of their comfort zone were all part and parcel of everyday life.
It certainly helped towards building up trainees' resilience to deal with whatever life threw at them. It was a world away from the more protective model of services they had been used to.
An important aspect of our programme was that it offered the chance for an individual to learn in a very public, highly visible work setting and, with this as their foundation, to take one step at a time towards meeting their future goals.
The structure involved a six-month settling in period to build up a mutual understanding of their skills and future training needs, followed by an appraisal review. Parents and professionals were not automatically invited – something our first cohort of trainees found strange.
At this point in their training, a range of options was available. Alongside work at the Engine Shed, a series of weekly work experience placements were planned with local employers. These were designed to link their developing skills and growing confidence to a business setting.
These work placements also opened
up the opportunity for trainees to experiment with different jobs. This helped towards gaining an understanding of the type of paid work to aim for when they were ready to leave the Engine Shed.
Trainees also had the chance to enrol for nationally recognised vocational qualifications which were delivered in house at the Engine Shed by a tutor from the local college. This assisted them by matching their way of learning so they could link theory to the work they were doing as opposed to the more abstract classroom model. From that point, a trainee's progress was regularly monitored and reviewed and our input adapted in such a way to meet their changing needs.
And the whole thing worked. From our base in a beautiful building that met all our training and business needs, we created a learning environment within a busy public commercial setting in the middle of Edinburgh.
This outward-looking approach, combined with the benefits of peer group learning at the Engine Shed, proved to be a winning combination. From day one it was our intention to use this as a springboard for individuals to develop, learn and move on, armed with well informed and sustainable plans for their future.
We had a high success rate of people moving into paid work of 16 hours or more a week; it averaged out at between 70%-80% and met all the targets set.
We established links with many networks that reflected and supported our diverse work, from schools and colleges to third sector organisations, employers, customers – including those using our conference facilities and selling our produce as well as those using the cafe – and funders.
Many became active partners in our everyday work. Our regular cafe customers in particular shared in the ups and downs of the lives of our trainees and cheered them on from the sidelines.
Employers worked closely with us to develop their roles in providing work experience and training to lift an individual to the next stage and, in many instances, viewed them as potential employees.
This whole process naturally broke down the barriers that excluded people with disabilities from employment. Coming into regular contact with our trainees in their work role did more to challenge people's attitudes and prejudices than any discussions on equality ever could.
Over the years we saw many people pass through our doors and successfully move into jobs with a range of Edinburgh employers in the catering and retail sectors.
As our social enterprise developed, it provided up to 60% of our revenue with 40% coming from council funding.
The Engine Shed was a member of a network of council-funded supported employment bodies which, over a 25-year period, provided a range of options for those requiring support to get into work. However, in 2014, due to funding changes and a decision to tender supported employment provision as one commissioned service, the Engine Shed fell out of the scope of Edinburgh's funding criteria. A strict definition of supported employment – support offered to people in the workplace – appeared to leave no flexibility for the needs of people who were not "job ready" and required extra time and input to develop their potential in a training environment with supported employment. With this loss of funding, the Engine Shed could no longer operate and it closed its doors in February 2015.
This left a huge gap in provision. People with learning disabilities who require extra support to access the work market will be denied a tried and tested resource that would enable them to take their first big step into the world of paid employment.
A lasting memory is of meeting a group of parents to share the news about the closure. One couple said they felt angry and also sad, not on behalf of themselves or their son who had benefited from his training and who was now thriving in a new job in Social Bite – a sandwich takeaway in the city centre – but for young people and their parents in the future who would no longer have access to the unique Engine Shed experience that had succeeded in transforming so many people's lives. n
l    More info: www.theengineshededinburgh.org
l    A short film about The Engine Shed: www.youtube.com/watch?v=Lfz8A5qRvLk
l    A short animated film about the building: www.youtube.com/watch?v=8RaXMuA8bDQ
l    Lovely Recipes and People's Stories, a book to mark the Engine Shed reaching 21 years, with a foreword by Ian Rankin, can be downloaded from www.theengine
shededinburgh.org/uploads/downloads/guide-full-with-cover.pdf
https://www.cl-initiatives.co.uk/wp-content/uploads/2018/04/Engine-Shed-painting-2_preview.jpeg
878
1280
Rosemary
http://cl-initiatives.co.uk/wp-content/uploads/2017/06/community-living-1.png
Rosemary
2018-04-21 22:49:20
2018-04-21 22:50:41
Farewell, Engine Shed