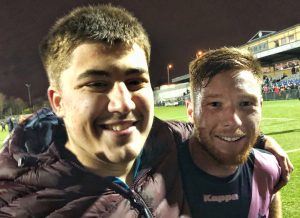 Freedom kicks off
Matthew Garnett is making the road trip of his dreams, ticking off visits to dozens of football grounds, just a year after getting out of an assessment and treatment unit
Hi, I'm Matthew Garnett. I'm 17, I have autism and I like football.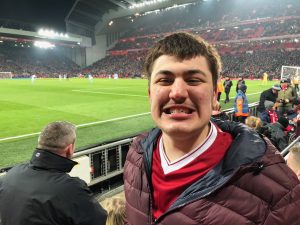 I'm Liverpool's best fan ever. I like them the most, my favourite player is [Fernando] Torres and I hate Arsenal, they're rubbish – they always lose.
I know all the teams I like lots, and I need to see where they are, so I got a map that shows where they are. I'm going round the country to see all of them. I have seen 49 so far.
I also will go to Wales to see Cardiff's and Swansea's grounds. I will go there in the summer and then I need to see all the ones in Scotland, and the Welsh ones that play in Wales, and Ireland, America, Australia and all the countries in the world.
I saw a game at Liverpool too and at Tottenham. Tottenham are rubbish. Liverpool were supposed to win – it was an accident they lost. I saw where Anfield and White Hart Lane are. So I was sitting with the Tottenham fans and celebrated [when Liverpool scored] and I was the only one and they were cross.
And I saw me on TV close up – I saw a purple coat and I knew it was mine so that is how I knew it was me, and on Match of the Day I was talking loud and I heard me on it.
But there was a boy that liked Tottenham there and he was sitting next to me. I became friends with him – they [Tottenham] are rubbish but we both agreed that Arsenal are rubbish. Tottenham fans don't like Arsenal as well.
Daddy was there and he saw that it was probably the first time there was an Arsenal fan in the Tottenham fans' bit at White Hart Lane, and he is an Arsenal fan. I don't know why. They are rubbish and Arsene Wenger should stay to make them even more rubbish.
I know every team and what league they're in.
I know everything about football.
I hate Arsenal and they're the worst team, and so my worst players are [Alexis] Sanchez and [Mesut] Özil and all the Arsenal players.
I need to see them. I take pictures of all the bits – I need to see all of the bits but some ones don't show the ground. I have a PowerPoint of which ones I have seen such as Liverpool, Chelsea and Crystal Palace.
And there are even more semi-pro ones – they're rubbish but some are quite good.
Dulwich Hamlet is the closest team to my house – they were promoted into Conference 2. I saw a game there. It should be like it in all games. At semi-pro games you can talk to the players and argue and shout at the referee, and be really close and go on to the pitch. They also let you have a go at goals and you hug and take pictures with them at the end – they're really good.
---
The first year of freedom
Matthew Garnett is free and living in the community a year after he was taken out of an assessment and treatment unit.
He asked to tell Community Living readers about his life now, and hopes you enjoy reading about how he is using his hard-won freedom to make his epic football journey.
---
His mother Isabelle Garnett wrote in Community Living (31:2, 2017) about the struggle to extricate Matthew from the unit, where he was subject to restraint and seclusion and forcibly medicated.
She says: 'This is a young man who the doctor said 'belonged in a hospital pure and simple' and was 'demand avoidant'. He is a phoenix rising from the ashes.'
If you enjoy our free articles and would like to support our Campaigning magazine, providing legal articles on rights and good practice as well as comment on policy and practice concerns, why not SUBSCRIBE . You get a quarterly printed magazine & digital access to the archive and all current articles. Individual subs for a year start at £30 pa with concessions for students and unwaged carers
https://www.cl-initiatives.co.uk/wp-content/uploads/2018/10/Matthew-garnett-Liverpool-game-photo.jpg
3024
4032
Rosemary
http://cl-initiatives.co.uk/wp-content/uploads/2017/06/community-living-1.png
Rosemary
2018-10-25 19:06:09
2018-10-26 17:41:22
Freedom kicks off