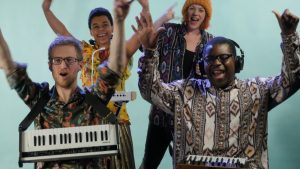 PRESS RELEASE 4 MAY 2018
Heart n Soul artists Too Hot for Candy collaborate with award winning beatboxer Grace Savage on new single 'Piece of Me'
Scheduled for digital release on Tuesday 15 May, 'Piece of Me' is the latest track from Heart n Soul artists Too Hot for Candy who have collaborated with beatboxer Grace Savage to create an addictive new dance tune using Korg technology.
The trio – who cite Prince and Sly and the Family Stone as major influences – have built a following on the pure unadulterated fun of their live shows, mixing tight vocal harmonies, huge synth basslines and gospel drums with a touch of post-punk that sounds like ESG & Liquid Liquid partying with Stevie Wonder. With this latest release they've created a guaranteed party playlist must-add. An official music video accompanies the track, with members of the band and Grace Savage cast in the role of downtrodden office workers who bring the joy to their daily grind through music.
'Piece of Me' is the second in a series of artist collaborations facilitated by London-based creative arts organisation Heart n Soul as part of its SoundLab project, which explores ways of using innovative music technology to encourage people with learning disabilities to create music and sound experiences. The work has been supported by digital commissioning agency The Space and follows the first collaboration with Dean Rodney Jr and the band Ravioli Me Away which used mi.mu gloves and Ableton technology. Together they produced the catchy track and music video for 'Dean TV Girls'. As part of the process, 'Dean TV Girls' and this new release are both accompanied by four 'How to' videos explaining how innovative technology has been used to make the new digital tracks. Too Hot for Candy and Grace Savage offer step-by-step insights into how they used Korg technology to create 'Piece of Me'. The videos are all available to watch at this private link ahead of the release.
"We really enjoyed working with Grace. She's a really good beatboxer and her music is brilliant. She brought a new element to how Too Hot for Candy works. I loved working with the Korg technology too. It was a learning curve and made the music sound different – a really interesting experience!" – Kali, Too Hot for Candy
"Working with Too Hot for Candy and Heart n Soul was an incredibly uplifting experience. The creative process was refreshingly free and instinctive and all about the pure joy of music (no 'overthinking' artistic egos in the room!). I left the studio with a huge smile on face every time." – Grace Savage
'Piece of Me' will also be available as a free download from the Too Hot for Candy Bandcamp page on Tuesday 15 May. The videos will be available to watch online at HeartnSoulSoundLab.com.
Too Hot for Candy
Kali, Arthur and Isaac bring you a sound they describe as 'way funky'! Inspired by Prince and Sly and the Family Stone and with big beats and funky drumming, this is music you can party to! Their first self-titled EP was released in June 2017, and they have performed at Heart n Soul's Beautiful Octopus Club Festival, Squidz Club and Big 30 Summer Takeover, as well as at music events and venues around the country including The Rock House and Blue Camel Club in Brighton.
 Grace Savage
Grace Savage is an independent London based singer, beatboxer, and actor. Listed as one of ELLE magazine's '100 Most Inspiring Women', the young UK artist and 4 x UK Beatboxing Champion has since been shortlisted for a number of competitions and funding opportunities, winning the "Public Choice Award" for the B-side Remix Project as well as being selected for the Emerging Artist and Transmission Fund through Help Musicians UK. In 2018, Grace has been nominated for "Best Female Solo Act" and "Best Songwriter" at the Unsigned Music Awards alongside impressive acts such as Ray Blk and Jorja Smith. She was also selected from over 5,000 entries to compete in the Isle of Wight "New Blood" Quarter-Finals alongside 40 other live acts. gracesavageofficial.com
SoundLab
Taking the strapline 'fun and creativity through music and technology' as its overarching objective, SoundLab is an innovative digital music making project from Heart n Soul. It explores ways of using music technology to encourage people with learning disabilities to create music and sound experiences. Collaboration is central to the work of SoundLab and the project's key aim is to improve accessibility in digital music making and share exciting new ways of making digital music with a wider audience, benefiting everyone. heartnsoulsoundlab.com
Heart n Soul
Heart n Soul is an award-winning creative arts company and charity that believes in the talents and power of people with learning disabilities, providing opportunities for people to discover, develop and share this power and talent as widely as possible. Running for over thirty years, Heart n Soul provides opportunities for people to take part in creative activities, to train in a new skill or develop their artistic talents, with collaboration and sharing central to what they do. As a result, people with learning disabilities have more choice, are more connected, have more confidence and are able to work towards more independent lives.
Heart n Soul reaches over 30,000 people annually, through live events, creative sessions and online, and this continues to grow each year. heartnsoul.co.uk
The Space
The collaboration between Too Hot for Candy and Grace Savage is supported by The Space It is a commissioning and development organisation funded by the BBC and Arts Council England, committed to supporting and facilitating the UK arts sector to realise its digital ambitions. The organisation commissions arts projects and provides a production and distribution pipeline to ensure that these projects reach a wide and diverse range of audiences. thespace.org
More Heart n Soul releases
Heart n Soul have an ever-growing network of artists with and without learning disabilities. Following the success of their first album 'Marzipan Transformations', Heart n Soul band The Fish Police, who recently performed live at South by Southwest in Texas, USA, have released a new EP 'Edge Myself to the Middle'. The band's performance at the festival was counted as one of the top to see by NPR and reviewed as one of The Sun's top 10. Check out the new EP here and watch the new music video for 'Something Interrupted'. Heart n Soul's award-winning artist Lizzie Emeh is due to release the final instalment of her album in three parts later this year. The first two EPs, 'The Clan' and 'My Baboo', can be found on Lizzie's website. Lizzie launched her debut album 'Loud and Proud' in October 2009 and made history as the first solo artist with a learning disability to release an album of her own songs to the general public. She describes her sound as "eclectic, wide-ranging and with lots of soul".
Find out more about Heart n Soul's artists at heartnsoul.co.uk
https://www.cl-initiatives.co.uk/wp-content/uploads/2018/05/pieve-of-me-to-post.jpg
541
959
Rosemary
http://cl-initiatives.co.uk/wp-content/uploads/2017/06/community-living-1.png
Rosemary
2018-05-05 21:09:07
2018-05-05 21:09:08
New release by Heart 'N Soul artists 15th May