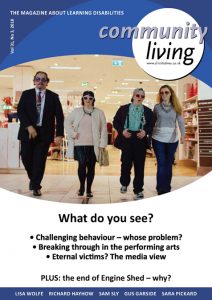 In this issue….'Bloody Awesome Parents' awards from Bringing Us Together – who do you know? and more on CASCAIDr – the new charity to help people get access to legal help; and whose challenging behaviour? How people are seen… and much more And.. are we helping people's voices to matter – the next council elections are May 3rd… are you ready – see Dimensions' work?
Comment Making a visible difference; tunnel-vision commissioning
Letters Mixed emotions about supported employment; we need to target council policy makers over reviews; thanks for a powerful voice
Welfare rights: reasonable adjustments The DWP has to make sure people with disabilities who claim benefits can access services, says Charlie Callanan
Legal: married – but without the capacity to consent to sex? Belinda Schwehr examines a court decision and its implications
The real challenging behaviour The professionals don't always know best, says Sam Sly, who explains how a campaign against an unfair, stigmatising term is taking off
Passport to the polls People with learning disabilities are being supported to exercise their fundamental right to vote in elections. Simon Jarrett reports
Farewell, Engine Shed The Engine Shed was a social enterprise that trained young people, helped them into work and broke down barriers. Marian Macdonald tells its story
Professional creators Talented artists and performers are getting into mainstream creative arts – and this type of work is not therapy. Gus Garside looks at successes and barriers
Stars of the silver screen strike gold Oska Bright – the world's biggest learning disability film festival – breaks records as well as boundaries, says Lisa Wolfe
Appearing on stage and screen Richard Hayhow discusses how theatre and TV are portraying and changing perceptions of people with learning disabilities
Stomp on the chemical cosh Thousands of people are taking psychotropic drugs that they do not need. Seán Kelly talks to Anne Webster and Carl Shaw of STOMP, an NHS England initiative to tackle this
Research: the experience of fathers Daryl Dugdale and Jon Symonds talk to fathers about fatherhood and their experiences of adult social care services
Hear our voices Sara Pickard talks about why it's positive to get involved in politics and reports back on an international self-advocacy conference in Brussels
Endless victims of violence Press coverage often focuses on attacks and abuse. Stories of success and everyday lives are needed to prevent a perception of helplessness and dependency, says Shirley Durell
Whose world is it anyway? Where a system of 'care' can turn into 'control', does inclusion mean people should fit into the world or the world should fit around them? asks Simon Duffy
Part of the community? Small homes allow people to be part of society. However,staffing issues mean there is a real danger we may be recreating institutional ways, fears Peter Rainford
Dealing with death, bereavement and loss Death and bereavement are often taboo subjects but everyone has the right to grieve. Sue Pemberton reports on a conference that addressed these sensitive issues
TV: a sensitive portrayal of reality Tracey Harding enjoys a deftly written TV drama series that depicts life for those who are different in a small town
The great American IQ panic of 1917 IQ testing caused widespread dismay when it suggested the US population was losing its intellectual powers. The consequences of this are still being felt, says Simon Jarrett
https://www.cl-initiatives.co.uk/wp-content/uploads/2018/03/CL-spring-p1-FB.jpg
673
476
Rosemary
http://cl-initiatives.co.uk/wp-content/uploads/2017/06/community-living-1.png
Rosemary
2018-03-29 21:25:32
2018-04-26 21:36:21
Now Out - Spring Issue. What do you see?