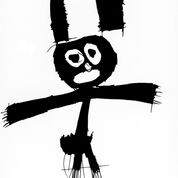 Vik JF finds unusual power in a striking exhibition that raises questions around complex collaboration and how an artist sees the world
In the beautiful gallery space of the Phoenix Brighton, I visited a really interesting and unique exhibition of the work of Johnny, who describes himself as an artist who is autistic.
Here was something I had not quite seen before – or at least I can't remember that I have. In some of his works, Johnny paints only on the top three-quarters of the surface and creates a rounded border to separate from the white bottom, which felt so random and intentional at the same time (see photos below).
There was an interesting contrast between the vibrant colours and shapes and the bottom part that brings some calm balance to the work. Sometime drips run from the top part to the white and connect the two. If you turned the works upside down, they would look like mountains – the white part the sky, and the drips little stars. So, in a way it feels as if Johnny sees the world upside down sometimes.
Another theme I was curious about was the 'man', usually red on a blue background with very large hands – I was not sure if they are asking for help or about to attack. They reminded me of 'Saturn devouring his child' by Goya. These works feel very private.
My favourites were the black and white drawings. They look quick and spontaneous with lots of character – like a Picasso sketch. I could happily imagine them as a cool print on a t-shirt or in my living room. They have such happiness and rhythm with their rapid, upbeat lines.
The only thing that I felt that could have made this exhibition better would have been choosing less work and fewer themes. Johnny's works are mostly very big and vibrant – they needed more space between them for people to experience the quality of each one.
That said, this was an incredible exhibition, put together by the Rocket Artists curation team. This is a group of 12 people, including Johnny and his parents, three artists from the Phoenix and six people from Rocket, who are artists with and without learning disabilities. It seems that this process was full of learning discussions and collaboration.
The exhibit I most enjoyed was the last room, where sticky tape in a variety of colours looked like a wonderful scribble across the whole space. It felt like a step beyond the clean, meticulously accurate tape installations I have seen before. It was free and messy in a charming way -a lovely representation of how complex a collaboration of this kind can be.
Art by Johnny, presented by Rocket Artists, was exhibited at Phoenix Brighton in April 2018
See more Art By Johnny at: http://tinyurl.com/yb8tfw48
Vik JF is an artist whose work mixes east and west, with English and Middle Eastern influences www.vikjf.com
If you enjoy our free articles and would like to support our Campaigning magazine, providing legal articles on rights and good practice as well as comment on policy and practice concerns, why not SUBSCRIBE . You get a quarterly printed magazine & digital access to the archive and all current articles. Individual subs for a year start at £30 pa with concessions for students and unwaged carers
https://www.cl-initiatives.co.uk/wp-content/uploads/2018/10/Johnny-black-on-white.jpeg
178
178
Rosemary
http://cl-initiatives.co.uk/wp-content/uploads/2017/06/community-living-1.png
Rosemary
2018-10-18 20:59:08
2018-10-26 11:20:51
Upbeat lines, bright energy